Stables: The stables are timber with iron roof and in an enclosed area. Three (3) large stables suitable for the larger horses are available. There are also four average stables (3m x 3m) and a covered (not totally enclosed) area (for horses/ponies that do not like being shut in).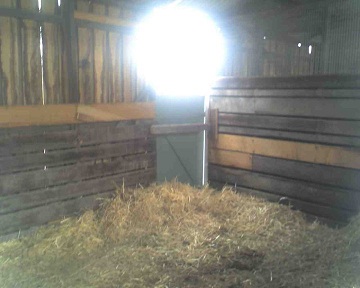 Round Yard: Very suitable for lungeing and working horses in a controlled environment. All weather sand floor and solid wooden paling lower fence section.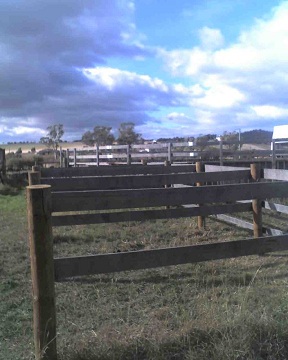 Sand Roll: Under cover enclosed sand roll. Horses love it.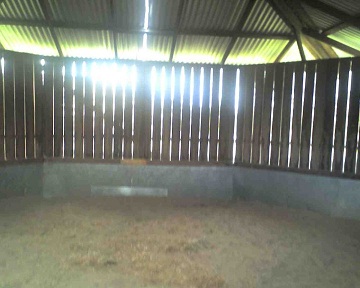 Washing Bay: Two horse wash bay with drinking quality water for hosing down and show preparation.
Day Yards: Two day yards attached to the larger stables ( for horses in full work that need to have their grass intake minimised) but still like to get out of the stable for the day. Other yards available for visiting horses or keeping the little overweight ponies under control.
Holding Yards: Great for horses that you want to monitor their food consumption or do not want to leave tied up while you are busy.
Individual Paddocks: Most horse will be in individual paddocks. All paddocks have their own water and are safely fenced - most with electric wires and accessed by laneways.
Group Paddocks: Will only be available when horses have the same owners and where there are suitable size paddocks for the size of horses.
Dressage Arena: Sand arena (40m x 20m) surrounded by tyres.
Jumping: Area set aside with small show type jumps suitable for practicing a variety of different elements.
The farm consists of approximately 60acres. The larger paddocks make for very enjoyable riding away from the schooling environment without having to worry about vehicle traffic, barking dogs or any other stressful situation. Great situation for building up fitness levels of horses that both will enjoy with hill and flat areas.
Horse Float: Horse floats available for hire.